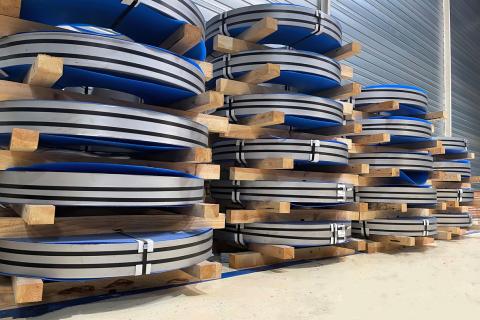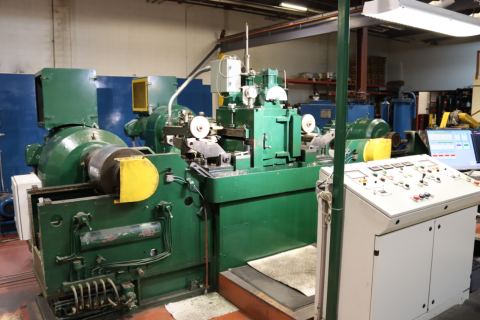 United Performance Metals is now offering precision rerolled thin gauge stainless steel strip from our new precision rolling facility in Portland, CT.
Achieve extremely tight tolerance and measurable gauge reduction with our Sandzimir cold reversing mill. The result is ultra-light precision strip, precision rerolled to your desired thickness - as low as .0008".  We offer six custom tempers and multiple surface finishes.  Our stainless strip meets full ASTM and AMS chemical and mechanical certification and is DFARS compliant. The cold reversing mill is accompanied by a strip cleaning line, bright annealing furnace, and a slitting line.
Thin gauge stainless steel strip grades
To view our thin gauge stainless strip line card, click here.  To learn more about our custom rerolling process, click here.  All grades available in stainless steel strip are listed below.
301
Our 301 stainless steel is available in precision rerolled steel strip in a variety of thicknesses. 301 stainless is a versatile austenitic grade, it is commonly used for applications such as precision spring manufacturing, stampings, fasteners, computer parts, etc. View our 301 steel strip inventory here.
302 / 304
Our 302 and 304 stainless steel strip grades are ideal for applications requiring corrosion resistance and high temperatures. View 302 steel strip inventory here.
304 / 304L DDQ
304 DDQ steel strip contains a higher nickel content than 304, allowing for more difficult deep drawing processes when needed. View 304 / DDQ steel strip inventory here.
305 DDQ
Often used for deep drawn and spun components, our 305 DDQ stainless steel strip features corrosion resistance similar to 304/L with less work hardening due to increased nickel content. 305 DDQ stainless is commonly used in the eyelet industry and other similar applications that require a low rate of work hardening. These applications are typically subjected to severe cold forming during fabrication. View our 305 DDQ inventory here.
316 / 316L DDQ
Of the austenitic grades, 316 and 316L DDQ steel strip is one of the most commonly used grades for deep draw metal stampings, with the higher nickel DDQ version used for the most severe deep draws where strength and corrosion resistance are important. View our 316 / 316L DDQ steel strip inventory here.
317 / 317L
Our 317 stainless steel strip is ideal for applications requiring corrosion resistance and exposure to sulfuric acid compounds. Common uses of 317 stainless includes products such as heat exchangers, boilers and super heater elements because of the high operating temperatures. View our 317 steel strip inventory here.
321
Our 321 stainless steel is a titanium stabilized austenitic grade that is suitable for high temp applications. In addition to our large inventory of sheet, plate, bar, and hex, we are a supplier of 321 stainless steel strip in custom thicknesses. View our 321 stainless strip inventory here.
347
Like our other 300 series austenitic grades, our 347 stainless steel strip is non-magnetic. SS 347 steel strip is stabilized against chromium carbide formation through the addition of columbium and tantalum, and is available in multiple thicknesses. Common applications of 347 stainless include high temperature gaskets, aircraft components, chemical production equipment, and others. View our 347 stainless strip inventory here.
Thin Gauge Strip Capabilities
Slitting range .250" - 12.5" wide with standard #3 slit edge
Width tolerance +/- .005" (as tight as .003" by request)
Flatness as rolled 3% of thickness.  Tension leveling available upon request
Custom-calibrated hardening per customer requirements
Standard coil ID 16"
50 lbs. minimum lot size 
We are deeply committed to earning your business.  By leveraging our people, products, and FIRSTCUT+® Processing Services, our new rerolling mill is the latest example of how we are expanding to meet our customers' needs.  Please consider us as your supplier on your next thin gauge stainless steel coil requirement.