304 Stainless Steel and 304L Stainless Steel Sheet, Coil, & Bar - AMS 5513, 5511, 5647
---
304 / 304L stainless steel, also known as 18/8 stainless and often referred to as 302, is the most common stainless steel. 304 stainless steel contains a higher chromium and lower carbon content than other variations of type 302. It can be used in an "as welded" condition, while 302 must be annealed. AISI 304 is used in a variety of household and industrial applications. 304L is an even lower carbon version of 304 stainless steel and can be used in more corrosive environments such as salt water and chemical containers.
Both 304 and 304L can be used in the welded condition as opposed to the annealed condition and still maintain resistance to corrosion and lend themselves to many types of fabrication. These grades resist corrosion and are often used in the food industry.
---
Standard Inventory Specifications
UNS S30403
UNS S30400
AMS 5513
AMS 5511
AMS 5647
ASTM A 240
ASME SA 240
W.NR 1.4307
PWA-LCS
GE-S400/1000
RR SABRe Edition 2
DFARS Compliant
Common Trade Names
ATI 304L (™ Allegheny Technologies)
ATI 304 (™ Allegheny Technologies)
Inventory Size Range
Sheet : 0.018" - 0.130"
Bar : 2.000", 4.000", 7.250"
Please contact us for more details.
Also Available 304 9% Nickel in the following thicknesses:
.008 (in)
.010 (in)
.012 (in)
The technical data provided is for information only and not for design purposes. It is not warranted or guaranteed.
For a deeper understanding of the difference between 304 and 316, request our white paper on the topic.
304 Chemical Composition

Element
Percent By Weight
Type 304 stainless

C

Carbon
0.080 (304)

Mn

Manganese
2.000

P

Phosphorus
0.045

S

Sulfur
0.030

Si

Silicon
0.750

Cr

Chromium
18.000 - 20.000

Ni

Nickel
8.000 - 10.500

Al

Aluminum
0.100
304L Chemical Composition

Element
Percent By Weight
Type 304L stainless

C

Carbon
0.030 (304L)

Mn

Manganese
2.000

P

Phosphorus
0.045

S

Sulfur
0.030

Si

Silicon
0.750

Cr

Chromium
18.000 - 20.000

Ni

Nickel
8.000 - 12.000

Al

Aluminum
0.100

Common Applications of 304 & 304L Stainless Steel
Aerospace structures
Base plates
Food and beverage industry
Pressure containing applications
Architectural structures and design features, moldings and trims
Sanitary or cryogenic applications
Chemical industry processing equipment
---
304 / 304L Physical Properties
Density: 0.29 lb/in³ (8.03 g/cm³)
Modulus of Elasticity in Tension 29 x 106 psi (200 GPa)
Linear Coefficient of Thermal Expansion

Temperature Range
Mean Coefficient of Thermal Expansion
°C
°F
mm/mm/°C
in/in/°F · 10⁶
20 - 100
68 - 212
16.6 · 10-6
9.2 · 10-6
20 - 870
68 - 1600
19.8 · 10-6
11 · 10-6
Thermal Conductivity

Temperature Range
W/m · K
Btu/(hr/ft²/in/°F)
°C
°F
100
212
16.3
9.4
500
932
21.4
12.4
Specific Heat

| °C | °F | J/kg °K | Btu/lb/°F |
| --- | --- | --- | --- |
| 0-100 | 32-212 | 500 | 0.12 |
Magnetic Permeability
H/m Annealed
1.02 Max @ 200 H
Electrical Resistivity

| °C | °F | Microhm-cm | MIcrohm-in. |
| --- | --- | --- | --- |
| 20 | 68 | 72 | 28.3 |
| 100 | 212 | 78 | 30.7 |
| 200 | 392 | 86 | 33.8 |
| 400 | 752 | 100 | 39.4 |
| 600 | 1112 | 111 | 43.7 |
| 800 | 1472 | 121 | 47.6 |
| 900 | 1652 | 126 | 49.6 |
Mechanical Properties and Yield Strength of 304 / 304L
| Property | 302,304 | 304L | 305 |
| --- | --- | --- | --- |
| 0.2% Offset Yield Strength, psi (MPa) | 30,000 (205) | 25,000 (170) | 25,000 (170) |
| Ultimate Tensile Strength, psi (MPa) | 75,000 (515) | 70,000 (485) | 70,000 (485) |
| Percent Elongation in 2 in. (51 mm) | 40.0 | 40.0 | 40.0 |
| Hardness, Max., Brinell (RB) | 201 (92) | 201 (92) | 183 (88) |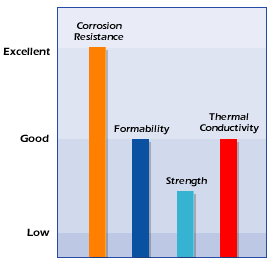 ---