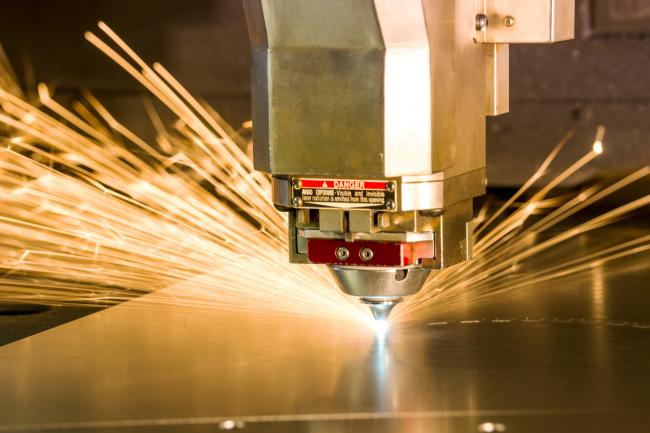 Our laser cutting solutions bring your cut metal to you more efficiently than ever before.  Whether you choose our fiber lasers or traditional CO2 lasers, UPM has a variety of laser cutting services to save you time and money.  Reduce the need for managing multiple sources for laser cut parts.  UPM offers 3 automatic deburr units, a parts flattening unit, and a complete finishing cell along with the latest technology in nesting software, Virtek reverse engineering, Fara CMM, and Visual Measuring Machine (VMM).
Fiber Laser Cutting Solutions
United Performance Metals is laser-focused on precision performance.  We offer state-of-the-art 8kw and 6kw fiber lasers, bringing your cut metal to you more efficiently than ever before. A fiber laser finish means tighter tolerances and superior finish quality.
Non-clamping, leading-edge technology allows for better sheet utilization
Quick set-up times and low maintenance equal repeatable, reliable performance
---
CO2 Laser Cutting Solutions
We deliver material that is custom cut to your exact specifications. Streamline your manufacturing process by receiving product ready to weld, form or bend.  UPM offers laser cut material in a variety of thicknesses and tolerances.
Reduce scrap by only paying for the metal you use
Increase profits by reducing the administrative burden of managing multiple sources
Reverse-engineering and inspection equipment ensures cut parts are delivered to your exact specifications
Leveling and Deburring
Our Arku EcoMaster flattens parts and prepares them subsequent processing
Uniformly deburr and finish the edges of laser cut machined parts with our Timesaver 
Laser Cutting Approvals
Our Mazak CO2 laser has been audited and certified to the requirements of the National Aerospace Defense Contractors Accreditation Program AC7116 for Nonconventional Machining. View Certificate
United Performance Metals has been awarded a GE Transportation Aviation Special Process Certification for Laser Machining/Cutting (EE02, S-422). View Certificate