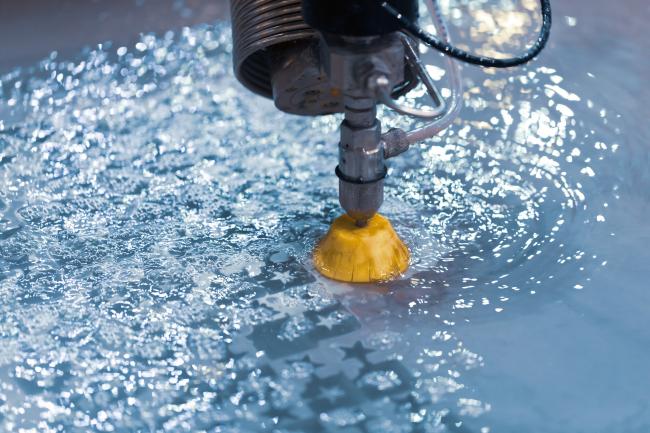 A water jet uses a high pressure stream of water combined with a granular additive.  As the pressurized mixture passes through a small diameter nozzle, it forms a coherent jet of abrasive/water moving at very high speeds which will erode a narrow line in a stock material.
United Performance Metals can deliver material that is custom cut to your exact specifications. Laser and water jet cutting capabilities allow us to cut material in a variety of thicknesses and tolerances. Best of all our cutting processes allow us to save you time and money.  Let us be your single source for material and cutting requirements.
---
Benefits of Water Jet Cutting
Streamline your manufacturing process by receiving product that is ready to weld, form or bend.
Reduce scrap by only paying for the metal you use.
Increase profits by reducing the administrative burden of managing multiple sources.
Mazak® 4000 Watt Calypso Hammerhead Water jet
Stainless Steel
.015" - 0.375" Thick
Max sheet Size 60" x 120"
Automated sheet loader/unloader
2 Axis cutting
Full 60x120 cutting area
Max thickness of 8"
Cuts virtually any material
Inspection and Reverse Engineering
Have a part, but not a drawing?  Our reverse engineering capabilities can help.  Our in-house, state-of-the-art inspection and reverse engineering equipment ensures cut parts are delivered to your exact specifications. 
Finishing Options
United Performance Metals also offers finishing options to its laser customers by incorporating a Timesaver® high-production deburring machine.  For those customers who would like to include finishing options, parts can be laser cut and then transferred to the Timesaver®.  This machine further removes small burrs and imperfections.  The end result is a high quality, finished part that will move quickly through the next stage of its production.