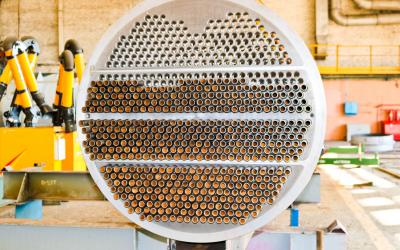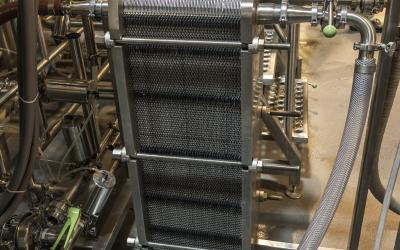 Heat exchangers use containment vessels to heat or cool one fluid by transferring heat between it and another fluid.  Users of heat exchangers include chemical, petrochemical, oil & gas, power generation, refrigeration, pharmaceuticals, HVAC, food & beverage processing and pulp & paper industries. Selecting the right material for a heat exchanger is highly dependent on the level of corrosion resistance, mechanical properties and fabricability you are trying to achieve, in addition to cost performance. 
A plate heat exchanger is a specialized design well suited to transferring heat between medium and low pressure fluids. 
Plate heat exchangers contain thin plates joined together with a small space between them allowing fluid to flow between a larger surface area.  They are highly efficient and more compact in design than other forms of heat exchangers.  
Shell and tube heat exchangers are well suited for high pressure applications. They consist of a shell with a bundle of tubes inside it transferring heat from within and around the bundle. 
Air cooled heat exchangers are pressure vessels which cool a circulating fluid within finned tubes by forcing ambient air over the exterior of the tubes. 
Listed below are some of the alloys United Performance Metals stocks which are most commonly used in particular heat exchanger applications.