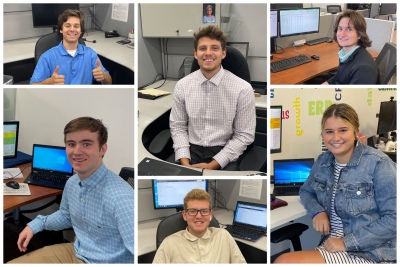 United Performance Metals has reestablished our summer internship program.  These hard-working students learn first-hand what it means to be a specialty metals solutions center, provide extra hands for our team, and bring a new perspective to our programs. The results of their efforts allow us to complete important projects and provide mentoring opportunities for current employees across a variety of departments.  Get to know these six outstanding interns who work in our corporate headquarters located in Hamilton, Ohio. 
Joe DelGrippo is a junior studying Finance at Elon University in North Carolina. He is currently conducting market research for our business development and International Sales teams. Joe is from Frederick, Maryland, and is excited to spend his summer in Cincinnati. In his free time, Joe enjoys sports, fishing, golfing, and hanging out with his friends. Joe recently went skydiving in the Rocky Mountains, fulfilling one of his lifetime goals. As you can see from his photo, Joe's enthusiasm is contagious!  
Nicholas Frasure is a junior studying Mechanical Engineering at Wright State University in Dayton, Ohio. Nicholas is getting a close-up view of our FIRSTCUT+® Processing Solutions as he works with our operations department and examines production efficiency. Originally from Portsmouth, Ohio, Nicholas admits that he has never eaten one of the most popular Cincinnati foods, Skyline Chili.  We believe there is still plenty of time to win him over!  Nicholas enjoys exercise, guitar, chess, and mathematics in his free time. We are very happy to have him as a part of our UPM team.
Originally from Milford, Michigan, Stephen Gillingham is a recent transplant to Loveland, Ohio. While at UPM, Stephen is working with the IT department reviewing contracts and translating excel queries into SQL (Sequel) Query.  While this may sound daunting, Stephen enjoys doing background work and finding ways to benefit others in the company. After this internship, he will continue learning through a coding course.  In his free time, Stephen enjoys golf and video games.
Jake Kennard is a rising junior studying Marketing at Elon University in North Carolina. Jake is currently assisting our Marketing Department and International Sales team with medical market research.  The experience he is gaining here at UPM matches right up with his major area of study at Elon. In his free time, Jake enjoys sports, golf, and exercise. A fun fact about Jake is he has eaten ten Skyline Chili cheese coneys in one sitting.  There is no question that Jake is a Skyline superfan!
Jonah Neuberger is a sophomore from Denver, Colorado studying Business at Lake Forest College. Jonah is working with our operations team, analyzing data and conducting time studies on our equipment and our FIRSTCUT+® Processing Services. He is learning a great deal about Excel and believes much of his UPM experience will be beneficial when he returns to school in the fall.  During the year, Jonah supports his basketball team in the position of shooting guard for Lake Forest. He also enjoys exercise and stock trades in his free time. Jonah is making a real impact with our team, and we are glad to have him on board.
Grace Stradley is a rising junior at the University of Kentucky studying Communications with a minor in Information Communication Technology. She loves to learn new things and is always up for a challenge, which makes her an ideal candidate for our internship program. Grace works under the guidance of our marketing and human resource departments, assisting in data clean-up, automotive research, and recruiting. Grace represents the UK Wildcats as a member of the Women's Club Lacrosse team.  She enjoys exercise, friends, family, and never tires of eating Skyline Chili's chili cheese sandwiches. She may have to take Nicholas out for lunch!
---
Posted July 01, 2021
Return to Blog