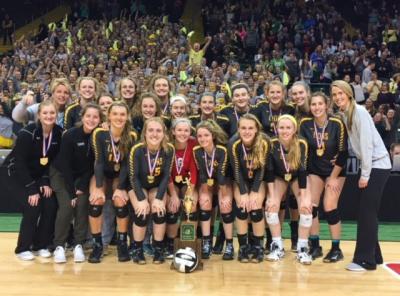 It was a dream come true for UPM's own Danielle Reinert as the varsity volleyball team from Ursuline Academy trudged their way from Division 1 state championship.  Reinert, an inside sales representative, played for the school team from 2006-2009 under the guidance of beloved coach Jeni Case.  After college, she wanted to give back her time and encouragement to other students at her alma matter.  After working at the JV level, Reinert moved up to assistant coach of the varsity team, a position that was particularly special, as her younger sister, Lexi Reinert was also a part of the team and a senior this season.
"It was a dream of mine to coach at the school that gave me so much and to coach with the woman who coached me in high school.  I cannot put into words how it feels to win with these girls who worked so hard. The girls got to win with their best friends, and I got to win with mine!"
The final match was played November 11 against St. Joseph from Cleveland, OH. The win came in a three-game sweep.  The Ursuline Academy varsity team record for the year is 28-1, winning the GGCL, districts, sectionals, regionals and finally, the state championship. Congratulations!
---
Posted November 20, 2017
Return to Blog