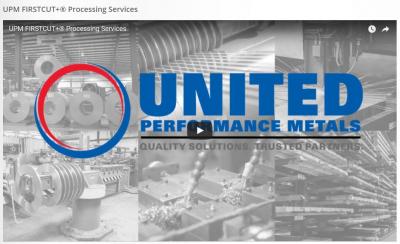 Our FIRSTCUT+® Processing Services include cut-to-length, slitting, edging, chamgering & facing, shearing, laser cutting, laser gauge measurement, water jet cutting, plasma cutting, sawing, precision cold saw cutting, precision blanks, first stage machining, heat treating, ultra-sonic testing, boring, trepanning, and deburring.  Take a look at our latest video highlighting the FIRSTCUT+® Processing Services featured by United Performance Metals.  If you have additional questions, don't hesitate to contact our sales team at sales@upmet.com.
To view our new video on UPM's FIRSTCUT+® Processing Services, click here: http://bit.ly/2seO8zO
You can find a collection of videos that describe our company, the products we carry, services we provide and industries we serve at https://www.upmet.com/videos.
---
Posted June 12, 2017
Return to Blog