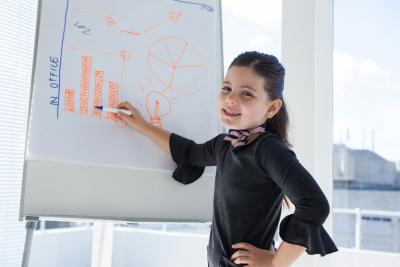 School's out for the summer!  Kids of all ages rejoice!  For the children of United Performance Metals' Connecticut employees, the summer holidays also provide a unique opportunity to spend time at their family's workplace.  For the 21st year, UPM in South Windsor has opened its doors to their children for their own version of "Take Your Child to Work Day."
These VIP's begin their day at UPM with breakfast followed by a complete facility tour.  Along the way, employees explained their positions in the company and their primary responsibilities to the guests who ranged in age from 5-14 years old.
A special guest, Lt. Colonel John Desarro from Air National Guard Barnes AFB gave a fun presentation explaining the ways UPM and other suppliers support the US military.
Later the guests got their hands dirty making tye dye T-shirts, battling it out in a mad game of tug-of-war, and cooling off in a multi-generational water balloon toss!
After lunch, the kids enjoyed a presentation from the Fidelco Guide Dog organization.  Who doesn't love dogs?   The children gained a better understanding of the relationship between guide dogs and the blind, post-traumatic stress victims and more.
All those activities would make for a terrific experience – but there's more!  There was also a martial arts/self-defense presentation, and each child learned to throw punches and kicks.  The afternoon included a drone-flying contest, and flowers were planted in the front lawn before the day concluded with each child receiving a gift basket to take home.
HR Manager, Dan Weinick shared his fondness for the annual event.  "Our kids leave with a better understanding of what we do, where we work, and the whole working experience.  I like the fact that there is unique learning that happens in a fun way that is geared toward children.  The returning kids always seem to look forward to the day which makes it even more special." 
Kids' Day remains a favorite for the Connecticut UPM team, adults and children alike.  It's just one example of how UPM incorporates fun and family into the work day!
---
Posted June 14, 2018
Return to Blog