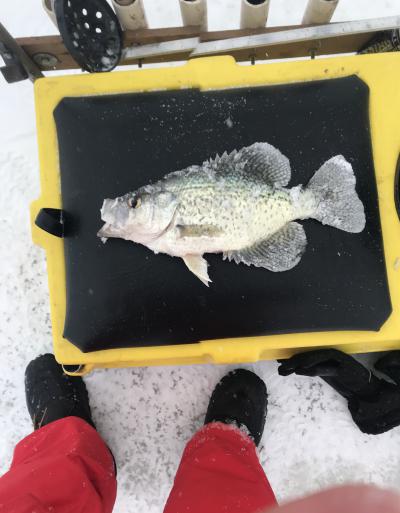 It's super-chilly in many parts of the country, with frigid temperatures and below-zero wind chill.  None of that stopped members of UPM's Chicago branch from bundling up and heading outside for an ice fishing tournament.  You read it correctly…an ice fishing tournament…in winter…in the Northern Illinois! 
Saturday, March 2 marked the 10th annual ice fishing derby presented by the Lake View Villa Association in, Wauconda, Illinois.  The catch and release tournament took place on Bangs Lake.  With 353 adults and 43 children participating in 2019, it has become the largest and most successful ice fishing event in the area.
Proceeds from the event support (TLS) Transitional Living Service for Veterans.  The organization's motto is Transforming Lives through Service to Veterans which focuses specifically on outdoor programs for U.S. military veterans in the area.  This annual tournament receives generous support from corporate sponsors and hard-core positive vibes from their ice fishing participants!  United Performance Metals was proud to have Jeff Hopper, Operations Lead from our Chicago branch, participate in the ice fishing tournament, with Greg Louch and Leslie Samson as winners in the event raffle.  To top it off, Chicago Bears player Cody Whitehead was there to meet, greet and chat with all.  Cody's gracious enthusiasm was a warm contrast to the bitter cold!   See y'all next year!
---
Posted March 06, 2019
Return to Blog