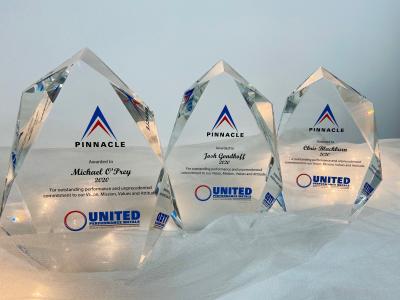 A pinnacle is defined as the highest point of development or achievement.  United Performance Metals proudly recognizes select employees for their exceptional accomplishments over the past year by presenting them with our UPM Pinnacle Award.  We are pleased to announce the recipients of the 2020 UPM Pinnacle Award: Chris Blackburn, Josh Gondkoff and Michael O'Prey. 
Chris Blackburn has been part of the United Performance Metals family for over 26 years. Taking lead in our Laser Cell facility, Chris developed integral processes to support our customer requirements and has built our laser program into the center of excellence that it is today.  
Josh Gondkoff is the General Manager of our Oakland facility.  In a year of uncertainty, Josh led his team to unparalleled success, connecting with customers in new and growing markets.  Always willing to go the extra mile, Josh's 'can do' attitude assures that he will get the job done.
Michael O'Prey is the General Manager of United Performance Metals' UK branch.  Under his leadership, the UK business unit has flourished.  Michael's commitment to both his team and his customers is evident through his principles in business and his genuine care for every member of his team. 
United Performance Metals recognizes Chris Blackburn, Josh Gondkoff, and Michael O'Prey for their outstanding performance and unprecedented commitment to our company vision, mission, values, and attitude.  Congratulations to these 2020 UPM Pinnacle Award recipients! 
---
Posted February 03, 2021
Return to Blog