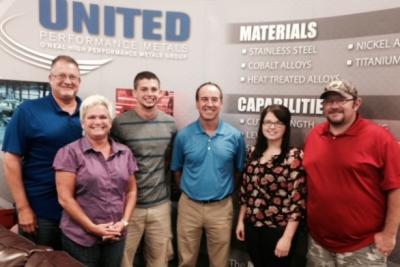 Each year United Performance Metals awards scholarships to bright, young  students as they embark upon their college career. This year, scholarships were awarded to Jake Binegar, Brittany Rose Callahan, Alit Ponkaew, and Chris Ivers.
Congratulations to the UPM Scholarship Recipients
Pictured in the first photo is Jake Binegar, son of UPM Senior Account Manager Mike Binegar.  Jake is attending Columbus State Community College and will be studying Fire Science in the hopes to one day become a fire fighter.  Also pictured is Brittany Rose Callahan, the daughter of UPM CTL Operator Eric Callahan.  She will be attending Ivy Tech Community College of Indiana and pursuing a degree in accounting.  Both students and their parents are shown with UPM President, Tom Kennard.
Pictured in the second photo is Alit Ponkaew, step son of Vulcanium VP of Operations, Jim Ellis.  Alit will be majoring in Computer Science at Northern Illinois University.  Also pictured is Chris Ivers, son of Vulcanium Customer Service Representative Marjorie Ivers.  He will be attending Elmhurst College in Illinois.  Chris will be studying business and participating in the Blujays football team.  Both students and their parents are shown with Vulcanium President, Jerry St. Clair.  Congratulations to them all! 
---
Posted August 14, 2014
Return to Blog