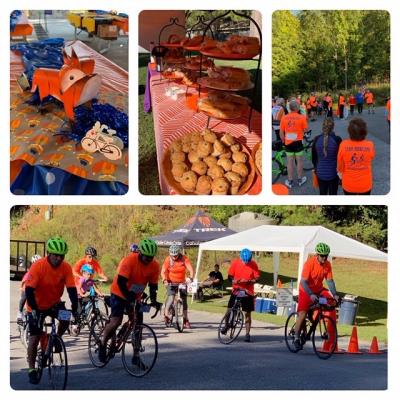 October marked the return of the Michael J. Fox Foundation's "Tour de Fox" Cycling Series for Parkinson's Research. This year, the Tour de Fox went virtual with a 30-mile, socially distant ride through Oak Mountain State Park in Birmingham, AL.
The dedicated cycling group, Team Rowland, was led by Mike Rowland, Executive Vice President and Chief Financial Officer of O'Neal Industries. United Performance Metals proudly continued our participation in the annual event with teammate and fellow rider, Jeffrey Liesch, UPM Chief Financial Officer.  Jeff's fundraising efforts resulted in financial gifts from friends, colleagues and UPM staff across the United States as well as from the United Kingdom and Singapore. Additional support came from JJ Johnson, UPM Director of Operations, who rooted on the team and provided a splendid amount of delicious and energizing treats for the riders. 
Many thanks to these very special efforts, and to everyone who contributed to this cause.  Team Rowland surpassed their fundraising goal and raised over $108,000.
The Michael J. Fox Foundation is dedicated to finding a cure for Parkinson's disease through an aggressively funded research agenda and to ensure the development of improved therapies for those living with Parkinson's today.
---
Posted October 07, 2020
Return to Blog