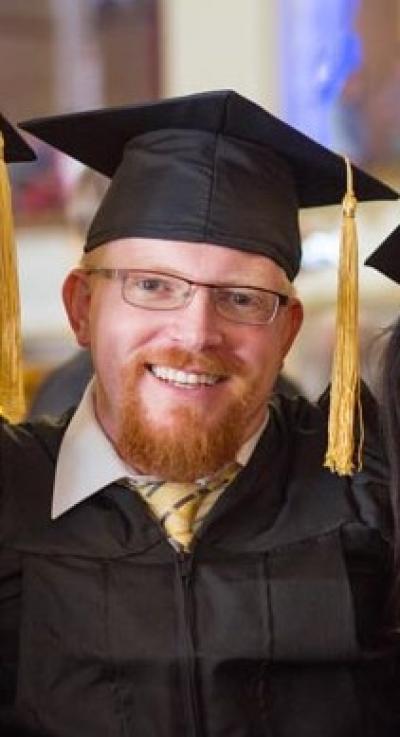 Coy Pemberton, son of Lee Ann Pemberton, Accounts Payable for UPM, always had an interest in joining the military.  His passion for service coupled  with his  desire to further his education has brought him to a personal goal he never would have imagined, the pursuit of his Psychological Doctorate degree. 
Coy completed Basic Training in 1999, and fifteen years later, maintains the position of Reserve Drill Sergeant. His many years of military service provided an opportunity for him to witness firsthand some of the effects that combat had left on his fellow servicemen and women.  It initiated a desire for him to work more directly with veterans who experienced post-traumatic stress disorders.
"I cannot say enough about how this hands-on experience has benefited me. Not only has it broadened my perspective on working with military personnel and their families, it has greatly increased my cultural competence. (http://mspp.edu/admissions/student-ambassadors/pemberton-coy.php)
Coy was inspired and earned his Bachelor's degree in Psychology with a minor in Philosophy at the University of Rhode Island in 2012. He continued on his path of study and most recently earned his Master's in Counseling Psychology and Primary Care from the Massachusetts School of Professional Psychology in June, 2014.  Not ready to stop there, Coy plans on continuing his education and pursue his Psychological Doctorate. 
Throughout his studies, Coy participated in a wide array of organizations in which he gained a great deal of experience in his field. Through his work with the group Train Vets to Treat Vets, he assisted veterans in the training of psychology for other veterans.  Coy also contributed to the development of the curricula for MSPP's Military & Veterans Psychology Concentration.  He completed his first year practicum working at the Veterans at Chelsea Soldiers Home in Massachusetts, and he is currently interning at Eleanor Slater Hospital in Rhode Island. 
Coy and his wife Christine currently reside in Providence, Rhode Island.  We expect nothing but success, and we wish them both the very best!
---
Posted July 16, 2014
Return to Blog