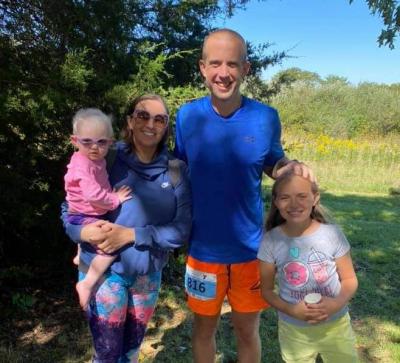 On any given day, runners of all ages can be seen moving through our neighborhood streets, setting a pace in their favorite gym, or dashing through town.  But there are trailblazers, too - runners who move off the beaten path - onto hiking routes and hillsides, maneuvering the natural terrain. These are the Trail Runners.
Tyler Burkhart, Technical Support Specialist in our Cincinnati office, has secured his place in the trail running community.  His recent 50K, a 31-mile achievement, was the first in what may be a line of personal records.  
Tyler admits he is a newcomer to the sport.  In his youth, he played basketball and soccer but found running outside of these activities unappealing.  But six years ago, Tyler decided it was time to get in shape, and he thought running might help him get there.  What began as a 10-minute run eventually turned into a mile, then into three miles, and so on. All of these runs were done on paved roads. Then Tyler decided to run a mountain bike trail.  Away from the noise of the populated local roads, he quickly developed a passion for the serenity of the trail, and never looked back. 
To offer some perspective, a 5K run, approximately 3.1 miles, typically takes 30-40 minutes to complete.  A full marathon, 26.2 miles, takes an average of 4-5 hours to complete.  Trail runs cover the same distance but typically require more time.  To run off-road, one must navigate uneven paths, rocks, roots, and logs, climb hills, and descend slopes, all without getting lost or hurt.  An Ultra Trail Run has all of this, plus a distance of 31 miles or more of off-road challenges. 
Tyler's first Ultra Trail Run was the Germantown, Ohio 50k.  He completed the run with an impressive time of 5 ½ hours.  Next, he plans to master the Stone Steps 50k at Mt. Airy Forest in Cincinnati at the end of October.  Tyler's dedication to the sport allowed him to master the extraordinary challenge of an Ultra Trail Run.  It looks like this once-reluctant runner will be setting the pace for many events to come.
---
Posted October 01, 2021
Return to Blog