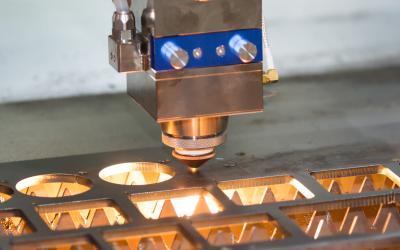 In plasma cutting, a column of electrically charged gas creates a high-energy arc, which melts the material being worked in a narrow path.  A good alternative for flame-cutting, the plasma-cutting process was originally developed to cut electically conductive materials such as alloy steel or aluminum.
---
United Performance Metals Plasma Cutting Capabilities
Our Messer hi-definition plasma cutter is capable of cutting stainless and nickel plate up to 5" thick.
The plasma cutter utilizes computer numerically controlled (CNC) systems for the highest degree of accuracy.
Our nesting software helps reduce scrap by maximizing the number of products per sheet or plate.
To ensure clean parts, we can shot blast, tumble blast, or grind the plasma cut edge of the cut parts.
Skidding, shrink wrapping or special packaging is also available upon request.
Key Features of Plasma Cutting
Smooth and square edges
Good cutting speed for high levels of production
Reduced heat transfer
Wide range of material compatability
---