It's that time of the year when the caps will be flying high with graduation ceremonies. UPM would like to celebrate these achievements.
Wyatt Gantenbein, son of Sharon Gantenbein in our Hartford office, graduated magna cum laude from the University of New Hampshire with his master's degree in Secondary Education. Wyatt has accepted a teaching position at Greenland Central School. He will begin instructing 7th and 8th grade students in mathematics classes this fall. Congratulations Wyatt!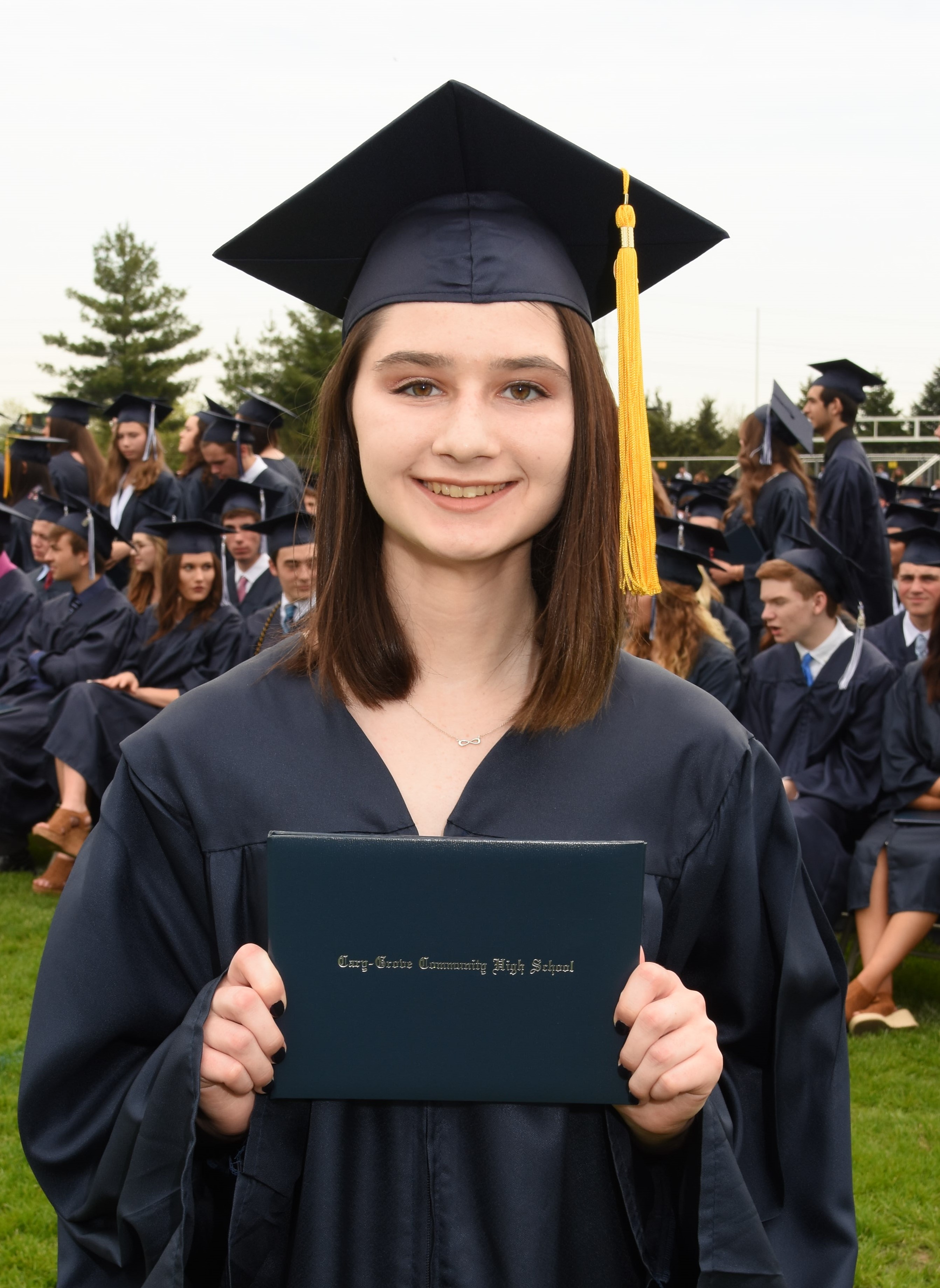 Alyssa Bragg graduated from Cary-Grove High School with a GPA of 4.695 out of 4. Daughter of Genana Bragg in our Chicago office, Alyssa's academic achievements include being named a National Merit Scholarship commended (top 3% of students nationwide), named as an Illinois State Scholar (top 10% of Illinois seniors), 35 out of 36 on her ACT and 1530 out of 1600 SAT. Alyssa will be studying Physics at Illinois Tech in the fall and wants to pursue a career in research and make new discoveries in her field. An avid skier, she spends as much time as she can on the slopes and has a strong love for musical theater.
Alyssa Carvalho, daughter of Pumma Carvalho in our Cincinnati branch, recently graduated from Northeast Ohio Medical University in May 2019 after completing her pre-medical studies at The University of Akron. She graduated from Mason High School prior to that. She is a voracious reader and loves Game of Thrones and doing Sudoku and jigsaw puzzles. Alyssa is starting her Internal Medicine residency at Cleveland Clinic Akron General Hospital in June.
Alexis Clements, the daughter of Shawna Clements in our Cincinnati location, graduated May 18th from Monroe High School with honors. She will start this fall as a Bobcat at Ohio University majoring in Biological Sciences and hopes to end at Colorado State University to earn her doctorate in Zoology. Her goal is to have her own wildlife sanctuary someday, the female Steve Irwin if you will.
This little guy is Austin Daniels, son of Luaysha Daniels in our Cincinnati headquarters. Austin graduated from Kindergarten, and he's achieved so much this year! He learned how to read, write and add numbers. His favorite subject is recess, and he said he wants to be a football player when he grows up. He can't wait to start 1st grade. The Daniels family is so proud of their little man and the future that awaits him. One down and 12 more to go!
Stephen Gillingham recently graduated from Milford High School. Son of Curt Gillingham in our Cincinnati office, Stephen will be attending Indiana University in the fall. He has an interest in finance and computer science and is looking quite forward to experiencing Assembly Hall and club soccer at IU.
Samantha Holtzendorff has been promoted to Kindergarten! Daughter of Tommy Holtzendorff in our Los Angeles branch, Samantha is a bright little girl with big dreams. She's ready to face her next steps in education head-on! Congratulations!
Andrea "Andie" Kennard, daughter of UPM President, Tom Kennard in our Cincinnati headquarters, graduated magna cum laude from Xavier University with a double major in entrepreneurial studies and marketing, proving that the apple did not fall from her family tree! Andie will be relocating to Denver, Colorado to work in business development at Oracle NetSuite in the fall.
The Kennard family is twice-blessed with another commencement this year. Jake Kennard graduated from Xavier High School. He plans to attend Elon University in North Carolina in the fall. Jake will study Business a minor in Law.
Jacob Bobby Rodriguez graduated from Orange Grove Middle School in Hacienda Heights, California. He participated in the school's football and softball teams as well as the school's ASB (Associated Student Body). Through the past two years, 7th thru 8th grades, Jacob maintained a GPA of 3.6-3.9 and received a Presidential Academic Achievement Award. Jacob will be attending Los Altos High School this fall where he will be playing football and baseball spring. Most importantly, his goal is to maintain his GPA. His father Raul Rodriguez form our Los Angeles branch is very proud of his son, adding these encouraging words, "You have a great future ahead of you!"
Katy Vanatsky has graduated from Wyoming High School where she competed in Track & Field, Cross Country, Swimming & Diving and Cheerleading. Daughter of Rich Vanatsky in our Cincinnati headquarters, Katy also acted in the school musical productions and was a leader in student government. She will be attending the University of Texas at Austin in the fall where she will study Biomedical Engineering.
The White family in Birmingham, Alabama had two commencements to celebrate this year. Maria White, daughter of Kris White, graduated summa cum laude from the University of Alabama, Roll Tide! Maria earned a dual degree in secondary education and English language arts. She is excited to share her love for literature with future generations.
Michael White graduated from Hewitt Trussville High School with an Honors diploma. Michael plans to become a mathematics teacher and will attend Auburn University in the fall, War Eagle! The question remains, which school will the family root for during the Iron Bowl? Tune in later to find out!
Connect with UPM at www.upmet.com
Posted June 18, 2019